Get the Free Esyndicat V1.8 Script (NEW)
---
Why You Need Our Directory Script
Easy for newbies
If you are new to web directories and need a reliable & easy-to-use software for the quick start with ability to grow up in the future eSyndiCat might be the perfect choice for you. Read more →
Flexible to professionals
You are an advanced webmaster and you are tired from outdated buggy software with poor support. You need a flexible software that can be extended easily. eSyndiCat has many features for you. Read more →
Migrate from another script
You are looking forward to switch your current platform and want to know why eSyndiCat is the best possible option for you. Check our migration policy for those who migrate from other scripts. Read more →
Third party developers
You are a third-party developer with your own customers base and you are looking for a php directory software solution that's easy to customize and maintain. Check our options! Read more →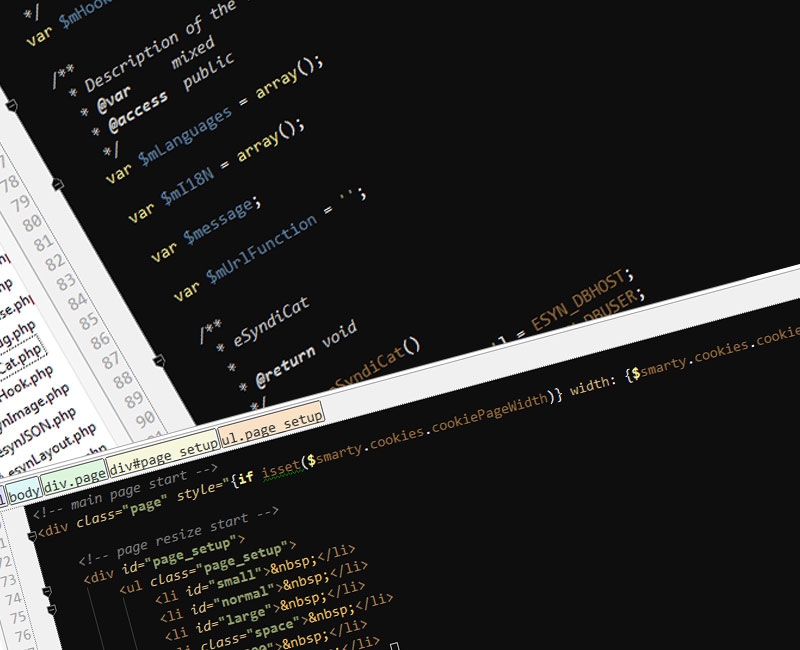 Complete control and ownership
eSyndiCat gives you a simple, unbranded directory software that can be customized in any way. You are allowed to maintain control over all functionality of your site and content.
No "powered-by" branding
eSyndiCat helps you build a directory website that's unique to you, with absolutely no "powered by" links or "eSyndiCat" branding mentioned to your visitors.
Keep your content
You manage the content of your directory. eSyndiCat teams provides several tools to populate your site content after the installation.
Fully unencrypted source code
You'll have the complete PHP source code to play with, making it possible to implement your own functionality or integrate your own custom features.
Flexible Advanced Features
eSyndiCat includes a great number of powerful features, that will make your directory website unique. See all features →
Drag-and-drop Content Management
Use eSyndiCat's built-in, visual drag-and-drop CMS to arrange content, customize blocks, create new pages, post news, and place advertisements. Create your own content blocks using our Blocks manager.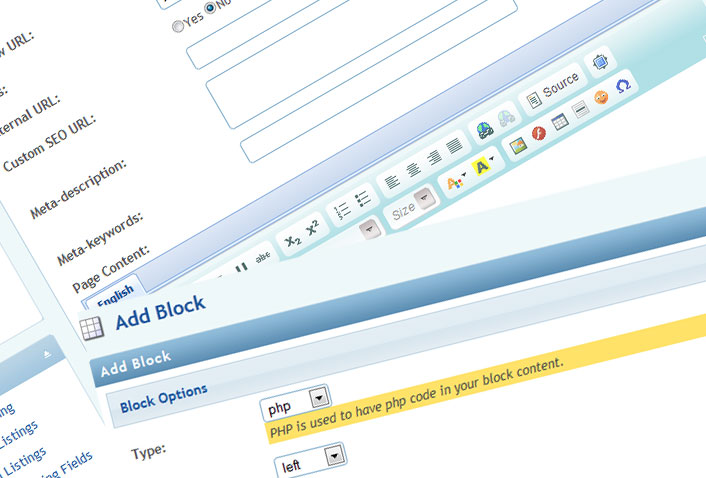 Monetize directory & get profits
Start earning money using eSyndiCat sponsored listings. You are able to create sponsored plans and charge any fee for a listing placement. eSyndiCat supports a set of the most popular gateways that can be used to accept payments.
Easy Google Adsense integration
Integrate your Google AdSense ads into your directory pages. You do not need to edit a number of HTML files, modify your php files. Google AdSense or any other ads can be easily managed in eSyndiCat Admin Panel. Get profits now using eSyndiCat directory script.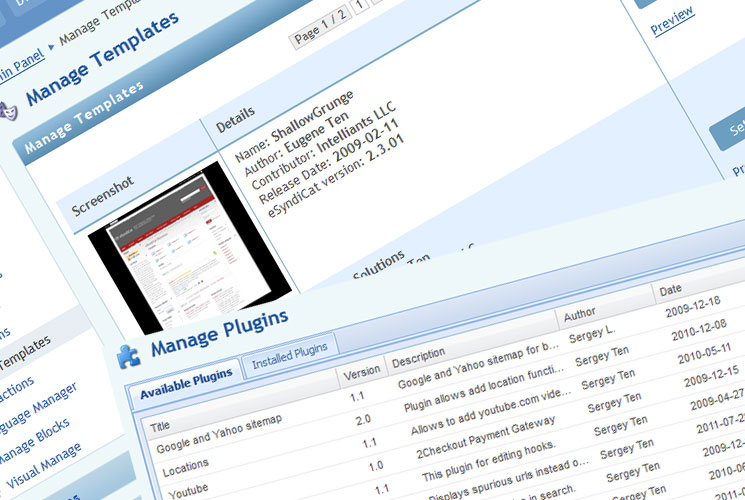 Plugins and Themes
eSyndiCat's extensive plugins system allows you to start as small or large websites. Go full-featured now, or include additional features as your directory portal grows. Seel all plugins→
Get free or paid plugins
The eSyndiCat team offers a great number of free professional plugins. Anyway, you can explore the plugins that are sold third-party developers.
Only pay for what you want
Most eSyndiCat plugins come free with the software license purchase. Our team also provides several premium plugins. They are priced individually and you can purchase them at any time, and they'll seamlessly install on your directory portal.
Get development services for custom projects
We offer custom modification services at very affordable prices. We've also partnered with several web development firms that can take on eSyndiCat-based custom projects of all sizes. Give us your project details and we'll connect you with the right people. See our partners →
Quick and Easy Setup
Whether you install it yourself on your own server, or have us do it for you, you'll be up quickly so you can focus on your site content.
One-time purchase
You will receive a link to download eSyndiCat shortly after your purchase. Our payment processing company requires some time to pass the order through their anti-fraud system.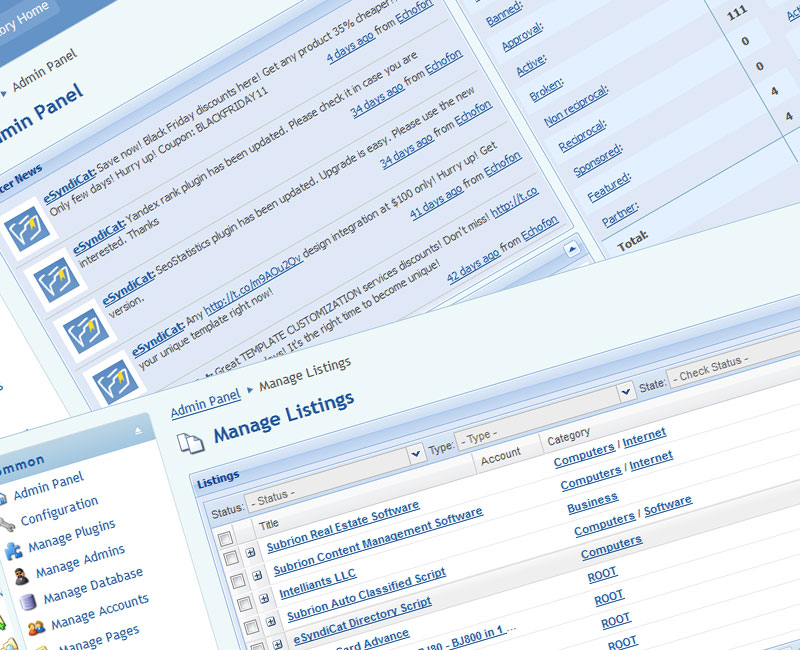 Professional installation service
If you want someone else to handle installation, no problem! Our support team can install eSyndiCat on your server at no cost when you purchase the software. Our team provides only one free installation per customer.
Ready-to-go templates & custom layouts
Give your new directory website some style with one of the default templates that come free with the purchase, or make it your own by editing the template! More templates are available in our Templates Repository.
Advanced Listing Fields
eSyndiCat provides an easy way to setup your listing fields via admin panel. You don't need to code any line of code at all - this can be easily created in admin panel. There are many listing field types that could be created. They are: inputs, textareas, radios, checkboxes, images, dates, currencies, attachments, and many more. You can control what pages these fields should be displayed, allow editing, etc. Please check our demos for details. Check demo →
Payment Gateways
We all understand that one of the major webmaster goals is to monetize a website, at least for the majority of you. And we are highly motivated to help you achieve this goal. Our software has many payment gateway modules that allow to sell sponsored listings or banners using eSyndiCat directory software directly. We support Paypal, 2checkout, Alertpay, Moneybooks, Google Checkout and many more modules.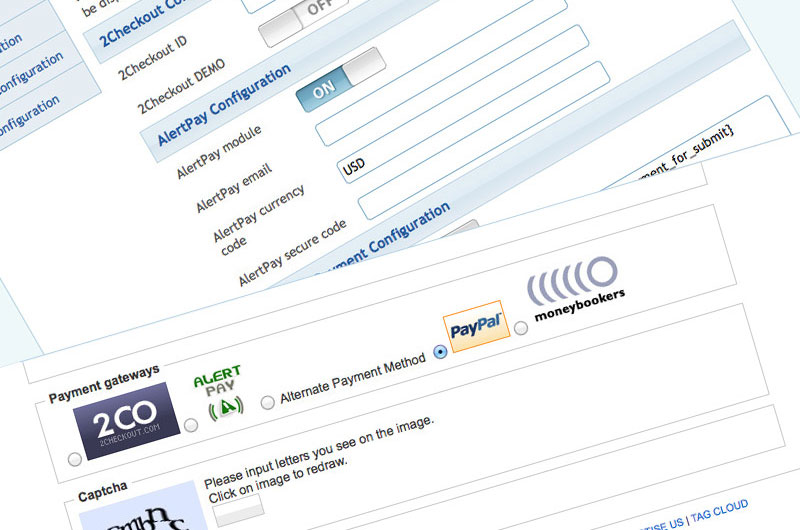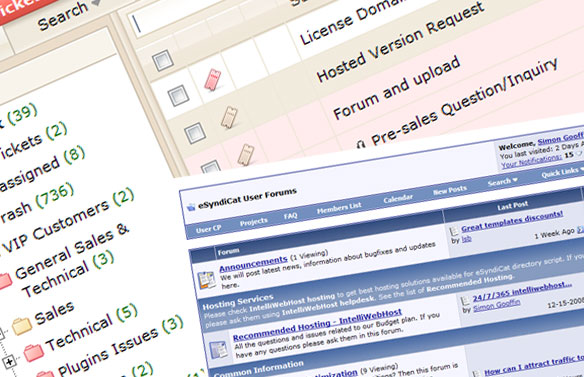 Expert Team & Users Community
eSyndiCat is backed up with a team of professional PHP developers that are aimed at providing their customers with the best support service. We offer support in several ways. Read more →
Online support included
When you buy a license, our expert support team will provide you with 6 months of free, ticket-based support which can be extended for a small fee when you desire.
Up-to-date Documentation
Find answers for many questions in our comprehensive support knowledgebase. Articles are continuously being updated so you'll always have the newest information available.
Active development
Patches, feature updates, stylish templates, and new plugins are constantly being released so you can provide your visitors with an up-to-date online directory with all possible features.